Prof. Naoko Tosa
President
Japan OCW Consortium
Location: Japan
Term: 2016-2018
Prof.Naoko Tosa is a president of JOCW and has been involved since 2005, Kyoto University is the one of six founding member universities of JOCW. She organized Open Courseware Conference in 2006. The videos of this conference are at the below URLs: http://ocw.kyoto-u.ac.jp/en/news/ocw-conference/ocw-conference/20060420/top-page
Kyoto University has been taking a leadership for MOOC in Japan. In addition to OCW, Kyoto University started MOOC called edX in 2013. Already Kyoto University has been providing five edx courses.
Prof. NAOKO TOSA is an internationally renowned Japanese media artist, born in 1961 in Japan. After receiving a PhD for Art and Technology Research from the University of Tokyo, was a lecturer at Musashino Art University and was a researcher at Media Integration & Communication Lab in Advanced Telecommunication Research Labboratory (ATR). She was a fellow at the Centre for Advanced Visual Studies at MIT from 2002 to 2004. Currently she is a professor at Kyoto University.
Covering a wide range of areas, NAOKO TOSA's art includes visual art, video art, digital art, sculpture, etc. She has exhibited her artworks at the Museum of Modern Art, New York, the New York Metropolitan Art Museum and the New York Metropolitan Art Museum, the Long Beach Museum, International Berlin Film Festival New Media Division among many locations worldwide.
She received a research funding from the agency for cultural affairs in Japan (2000), from Japan Science and Technology Agency (2001-2004), from France Telecom R & D (2003-2005), from one of the biggest game company, Taito Corp. (2005-2008), from the National Institute of Information and Communications Technology (NICT) (2005-2008), from NIKON CORPORATION 2009-2010, from Nissan Global Foundation (2011-2012).
---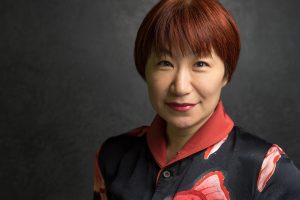 ---