Web Designer
Location: Manila, Philippines
Noriaki Castillo is a lifelong learner who used Open Educational Resources prior to joining the Open Education Consortium. Although his background is in IT, Noriaki taught himself multimedia and web development. Noriaki brings the Consortium  experience in working with companies and organizations from around the world as a creative director.
His other interests include film making, screenplay writing, architecture, advertising, politics, science, and physics.
contact: noriaki@oeconsortium.org
---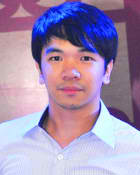 ---