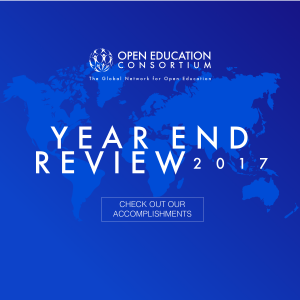 As we share our 2017 Year End Report, it also is a good time to reflect on our busy, eventful year. First, thank you to our member institutions, board members, partners, individuals who volunteer their time to participate in the Consortium activities, and staff. Our successful year would not have been possible without you, our global education partners.
Our mission to promote, support and advance openness in education around the world was at the core of our events and projects. The Year of Open focused on open topics globally, included 85 global experts from over 140 countries. Over 8,700 users participated in Open Education Week in over 20 languages, and OE Global Conference in Cape Town had attendees and presenters from over 48 countries.
2017 was also a year of celebrating anniversaries. OEC was honored to support, promote, and participate in celebrations of significant open education milestones including 10-year anniversary of the Cape Town Open Education Declaration, the 15-year anniversary of the suite of Creative Commons Licenses, the 5-year anniversary of the Paris OER Declaration, and our own 5-year anniversary of Open Education Week.
We are proud of where we've been and we are excited about our future. As we reflect forward, we know that we will be fortunate to work with many of you. Subscribe to our OE Newsletter to get involved and to stay informed of our 2018 activities.