All over the world, including India, there is an aspiration that every student should be actively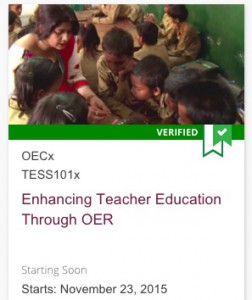 engaged in their learning. Achieving this aspiration demands highly skilled teachers and quality teacher education.
Enroll today for class starting on Nov 23
This course introduces teacher educators to Open Educational Resources – freely available learning materials that can be adapted for use in particular contexts.  The course explores how you can use OER in the design and delivery of your teacher education programmes to help you bring about the transformation of classroom teaching and learning.   Throughout the course there will be a particular focus on the OER generated by TESS- India. These innovative multi-lingual text and video OER (www.tess-india.edu.in) aim to support teachers in developing participatory approaches through modelling links between theory and practice in classroom activities.   You will explore the values and pedagogy underpinning teacher education OER from TESS-India and other repositories and learn how you can adapt and incorporate these OER for your own contexts and students.
Through participation in the course you will develop skills in locating, adapting and producing OER. Collaboration and the co-creation of OER will be key themes; you will be introduced to ways of working and open practices that you will be able to take forward into your professional working.  Through the course you may also form and strengthen your professional support network of fellow teacher educators.
The course is designed primarily for teacher educators working in the Indian context in both pre-service and in-service education with primary and secondary school teachers in formal and informal programmes. However it has significant application for teacher educators globally.
All course content is openly licensed under a Creative Commons Attribution Share Alike license. You are free to translate, modify and repurpose course materials as long as you provide attribution to the TESS-India project and share under the same licence. For more information on Creative Commons licenses, please see http://creativecommons.org/about/license/
What you'll learn
How to recognise and model active, learner-centred teaching approaches

How to use OER (Open Educational Resources) to plan and enact activities that promote/ teacher professional learning and pedagogic change

How to give and respond to feedback aimed at enabling practice focussed learning and pedagogic change

How to select and use OER to meet your own professional learning needs?