The Community College Consortium for Open Educational Resources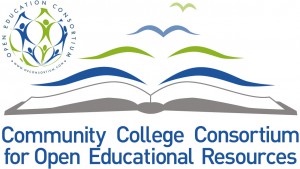 (CCCOER) at the Open Education Consortium is composed of over 250 community and technical colleges representing individual, regional, and statewide consortia members in 17 North American states and provinces.   Our mission is the promotion of open education policies and practices to expand access to education and improve teaching and learning.   Follow us at our Blog and Twitter
The open education movement encourages the creation and reuse of free, high-quality open educational resources (OER), open textbooks, and open source learning systems. By promoting open policies and sharing best practices, community colleges can create sustainable and inexpensive academic resources to make education more affordable for students. Faculty and staff participating in CCCOER activities are exposed to many collaborative professional development opportunities to enhance their teaching.  A wealth of openly licensed and public domain content is currently available at open repositories on the web providing learning resources for teachers and students.
CCCOER was established in 2007 at Foothill-De Anza Community College District (FHDA) under the leadership of then Chancellor Martha Kanter. Dr. Kanter continued to promote the use of Open Educational Resources as the U.S. Under Secretary of Education 2009-2013 overseeing policies, programs and activities related to post-secondary education. In 2011, CCCOER joined the Open Education Consortium, the leading global organization promoting open educational policy and practices worldwide, to promote partnerships and collaborations with educational institutions across many countries.
CCCOER is a joint effort by community and technical colleges, regional and statewide consortia, the Open Education Consortium, the William and Flora Hewlett Foundation, OpenStax College, the Saylor Foundation, Softchalk, LLC, the League for Innovation in the Community Colleges, and many other educational organizations.  We invite you to join us.