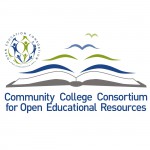 Please join the Community College Consortium for Open Educational Resources (CCCOER) for a free and open webinar on the Faculty Perspective on OER Adoption.  We will hear from professors in multiple disciplines including English, Physical Geology, and Psychology on how they have adopted and developed OER to improve teaching and learning and reduce costs, and how they evaluate the results.  They will also share what has inspired them to do this work and how their students are benefiting from the pedagogical enhancements.
When:
Wed, May 11, 10amPST/1pmEST
Featured Speakers:
Alisa Cooper, PhD Faculty Director of the Center for Teaching, Learning & Engagement | English Faculty Glendale Community College | Tri-Chair, Maricopa Millions Project
sharing how a Saylor.org literature class sparked a re-development of her own course using digital learning materials to replace links and also how her online/hybrid English department colleagues at Glendale Community College are in the process of crowd sourcing an OER ENG101 (Freshman Composition) course.
Ryan Cumpston, MS, Department Chair, Earth Sciences Faculty, College of Lake County, Illinois
sharing how he has built a lab manual for his Physical Geology class and devoted a lot of time to building digital resources (instructional videos and interactive learning modules).  Demonstration of interactive learning module features.
Rajiv Jhangiana, PhD, Psychology Faculty, Kwantlen Polytechnic University, Open Textbook Fellow, OER Research Fellow, Associate Editor NOBA Psychology
sharing how he has adopted open textbooks in his psychology courses, editor and reviewer for for the NOBA OER Psychology Project and other OER communities, and performs OER efficacy research.
Participant Login Information:
No pre-registration is necessary.  Please use the link below on the day of the webinar to login and listen.
http://www.cccconfer.org/GoToMeeting?SeriesID=1bffe7d5-29be-46c6-adfc-c7e48e63b2f5
If you need dial-in access, you may use the following number:
1-888-886-3951 (passcode: 900423)
READ THIS PRIOR TO YOUR FIRST CCC CONFER MEETING TO ENSURE YOUR COMPUTER IS READY!
FOR ASSISTANCE: CCC Confer Client Services – Monday – Friday between 8:00 am – 4:00 pm
Telephone: 760-744-1150 ext 1537, 1554 or 1542
Email: clientservices@cccconfer.org
Posted by: Una Daly, Director of Curriculum Design & College Outreach, OEC Consortium, email: unatdaly@oeconsortium.org