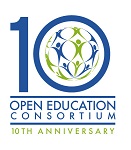 To our Open Education Community:
To celebrate our 10th anniversary, we want to conduct an opinion survey to collect the top open education influences.  What trends, events, and people do you think have influenced you and open education the most?
The three question survey should only take about 2 minutes.  We will collect responses until August 31 and then share the results with you!  All respondents are anonymous.
We look forward to hearing from you!  
The survey is closed.  The results are being collected and will be posted soon!