Fall 2016 Webinar Schedule: 
Community College Consortium for Open Educational Resources (CCCOER)
All our webinars are held at 10:00 am (Pacific), 1:00 pm (Eastern).  No pre-registration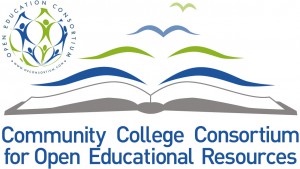 necessary, please use links below title on day of webinar to login to the cccconfer.org system.
READ THIS PRIOR TO YOUR FIRST CCC CONFER MEETING TO ENSURE YOUR COMPUTER IS READY!
• Wed, Sept 14:  Finding & Adopting Open Educational Resources
Faculty who are new to OER may experience difficulty finding an open textbook or other openly licensed materials to adopt for their courses.  Searching on your own is time consuming and the choices can be overwhelming.  Join us for this webinar featuring a college librarian who helps faculty find high quality OER to match their course outcomes and the creators of the award winning OER Commons,  a freely accessible online library that allows teachers and others to search and discover open educational resources (OER) and other freely available instructional materials.
Login Here: http://www.cccconfer.org/GoToMeeting?SeriesID=72ce73ea-2f12-4d9a-858b-4d5d0c7d96c0
Featured Speakers:
Heather Blicher, Online Learning Librarian, Extended Learning Institute, Northern Virginia Community College

Lisa Petrides, CEO/Founder and staff, ISKME.org, the creators of OER Commons
• Wed, Oct 12:  Understanding Open Licensing
Open licensing of instructional materials such as textbooks, videos, and other related resources makes possible free sharing and remixing which reduces cost barriers for students.  Creative Commons provides the legal infrastructure for easily sharing creative works including instructional materials but how do the different licenses indicate how a resource can be re-used.  Join us for an interactive session of playbook license scenarios where you test your knowledge of the OER re-use based on license type.
Login Here: http://www.cccconfer.org/GoToMeeting?SeriesID=864ed0e9-5f20-4c31-888a-621aac240190
Featured speakers:
Quill West, OER Program Manager, Pierce Community College District

Cable Green, Director of Open Education, Creative Commons
• Wed, Nov 9:  Designing Effective Open Educational Practices and Policies at Community Colleges Panel
The Community College Consortium for OER (CCCOER) is a community of practice focused on promoting OER adoption to expand access to education while enhancing teaching practices and learning outcomes.  Through members sharing successful practices and policies in online and open forums such as our monthly webinars and at conferences across the country, best practices can easily be understood and adapted by newcomers.  Join us to hear from member colleges who have designed effective open educational practices and policies and who walk the talk by sharing with other colleges.
Login Here: http://www.cccconfer.org/GoToMeeting?SeriesID=55a2811d-993a-49f8-8c51-84651cc74a7c
Featured Speakers:  TBD
• Wed, Dec 7:  Planning for OER Professional Development
Research with higher education faculty has consistently indicated that professional development for finding and successfully adopting open educational resources is both desired and necessary to undertake this transformation.  You will hear from two experts in the field of professional development who work in large college districts or statewide to support faculty who are developing and adopting OER to enhance their teaching and improve the learning experience and outcomes for their students.
Login Here: http://www.cccconfer.org/GoToMeeting?SeriesID=993c601b-6d0c-42c1-977b-f3ab747e5f3d
Featured Speakers:
Lisa Young, Faculty Director, Center for Teaching and Learning, Scottsdale Community College

Cheryl Huff, Associate Professor of English and Humanities, Chair VCCS OER Consortium, Germanna Community College
FOR TECHNICAL ASSISTANCE:
CCC Confer Client Services – Monday – Friday between 8:00 am – 4:00 pm

Telephone: 760-744-1150 ext 1537, 1554 or 1542

Email: clientservices@cccconfer.org
 Posted by Una T. Daly, Director of Community College Consortium for Open Educational Resources, email: unatdaly@oeconsortium.org