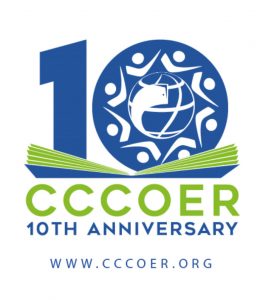 The Community College Consortium for Open Educational Resources (CCCOER) celebrates ten years of promoting awareness of and driving the adoption of open educational policies, practices, and resources.  Founded in 2007 at the Foothill-De Anza College District by Chancellor Dr. Martha Kanter, who later served as Undersecretary of Education for President Obama, on the belief that adoption of open educational resources would expand educational access for the millions of community college students in the US, while supporting academic freedom and faculty choice of openly licensed curriculum materials.
CCCOER is recognized as an all-encompassing community of practice for open education providing resources, support, and opportunities to collaborate in learning, planning, and implementing successful open educational programs at community and technical colleges in North America. Activities include sharing best practices through workshops, free webinars, online advocacy events and conferences; maintaining a community email list for news, ideas, queries and support; and showcasing open education projects and their benefits for students and faculty.
10-Year Highlights
2008 – 2011, a key award-winning project was the College Open Textbooks Collaborative hosted at the Foothill-De Anza College district that included an innovative train-the-trainer network of community college faculty and administrators; catalog of over 750 open textbooks with many peer and accessibility reviews; and research on OER impact on students and faculty at community colleges.
2011, CCCOER became part of the global Open Education Consortium, which promotes and supports open education worldwide, providing direct contact with, and greater visibility in, the global open education movement.
2016, CCCOER became the lead partner in developing a community of practice for Achieving the Dream's OER Degree Initiative. As the largest project to-date, it encompasses 38 colleges in 13 states, and provides direct support to community colleges seeking to develop full degrees using only open educational resources.
2017, CCCOER began supporting the California Community Colleges' Zero-Textbook-Cost degree program to provide training and share best practices for degree development using open educational resources or zero-cost instructional materials. The project is currently funding 23 colleges to develop full degree pathways for students with no instructional material costs.
In 10 years, CCCOER membership has grown to include colleges in 27 U.S. states and 2 Canadian provinces with 10 statewide memberships representing hundreds of colleges in North America. Browse retrospectives from our supporters and members from the last decade. 
Activities of the Community College Consortium for Open Educational Resources are generously supported by the William and Flora Hewlett Foundation, Achieving the Dream, the California Community Colleges' Zero-Textbook-Cost degree technical assistance program, and its member colleges and consortiums.
Download the full Press Release.