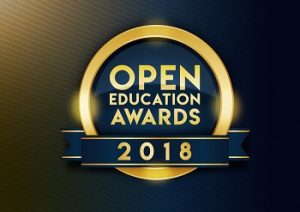 CONCORD, Mass. – March 26, 2018 – PRLog — The Open Education Consortium is pleased to announce the recipients of the 2018 Open Education Awards for Excellence STUDENT AWARDS.
The STUDENT AWARDS is a new category this year that recognizes the outstanding endeavors of a student who has benefited academically from the use of open educational resources (OER). The award is presented to the student whose achievements may inspire others to pursue degree programs that utilize open resources.  This year, we recognize two student winners and two honorable mentions.   Congratulations to the following 2018 Open Education Awards for Excellence winners:
NATALIE MILLER, College of the Canyons / California Polytechnic State University, United States.
SHIFRAH GADAMSETTI, Mount Royal University, Calgary, AB, Canada.
Honorable Mentions:
Rayan Alhumud, King Saud University, Saudi Arabia.
Drew Rich, Seattle Central College, United States
About the Open Education Awards for Excellence
The Open Education Awards for Excellence provide annual recognition to outstanding contributions in the Open Education Consortium community. These awards recognize distinctive open education sites, technological innovations, notable open courses, and exemplary leaders in Open Education worldwide. Read more about their stories at http://www.oeconsortium.org/2018/03/oec-announces-the-201….
About the Open Education Consortium
The Open Education Consortium is  a global network of educational institutions, individuals and organizations that support an approach to education based on openness, including collaboration, innovation, collective development and use of open educational materials. The Open Education Consortium is a non-profit, social benefit organization registered in the United States and operating worldwide. http://www.oeconsortium.org/
Activities of the Open Education Consortium are supported by the William and Flora Hewlett Foundation, member dues, and contributions from sustaining members including: The African Virtual University, Community College Consortium for Open Educational Resources, Delft University of Technology, Fundação Getulio Vargas – FGV Online, Japan OpenCourseWare Consortium, Johns Hopkins Bloomberg School of Public Health, Massachusetts Institute of Technology, Netease Open Courses, Open Education France, Open Universiteit, Organisation Internationale de la Francophonie, Taiwan Open Course Consortium, Tecnológico de Monterrey, Tufts University, Universia, Universidad Politécnica de Madrid, University of California, Irvine, University of Michigan, and contributions of member organizations.