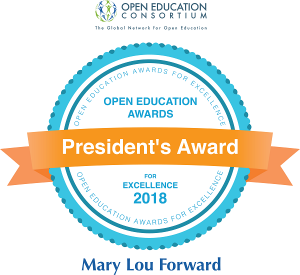 The Open Education Consortium (OEC) is pleased to announce the presentation of the Presidential Award to Mary Lou Forward, previous OEC Executive Director, at the 2018 Open Education Global Conference in Delft, The Netherlands.    
The President's Award is given by the OE Consortium Board of Trustees to an institution or an individual with exceptional contributions to the field of open education serving as inspirational model of engagement and commitment.
It's an honor to present this prestigious Presidential Award recognizing Mary Lou for being instrumental in advancing open education through her exceptional dedication, outstanding contribution, and exemplary service.  
During her tenure at the Open Education Consortium, she personally traveled the globe creating and connecting open education communities.  Mary Lou was instrumental in policy development, fostering relationships, and creating enthusiasm for open education. Over her nine years as Executive Director, Mary Lou supported the tremendous growth of open courses published by members, partnered with other open organizations and initiatives around the world to expand the impact of open, and launched the Open Education Awards and Open Education Week.
On behalf of the OE Consortium Board of Trustees and the open movement as a whole, we give thanks and congratulations to Mary Lou Forward.
Read full Press Release.