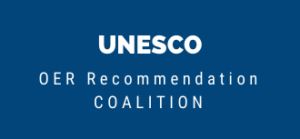 The UNESCO Recommendation for Future International Collaboration in the field of Open Educational Resources (OER) has been recently adopted by 195 UNESCO member states at the November 2019 session of the UNESCO General Conference. This is a unique and important milestone offering a major opportunity to advance open education around the world. 
Recognizing the importance of the UNESCO OER recommendation, a coalition of organizations active in advancing open education globally has joined forces to support its implementation. Coalition partners are:
The coalition will collectively leverage their strengths and expertise, combining and coordinating efforts to create and deliver comprehensive resources and services in support of OER recommendation implementation across all member states. Implementation support will be focused on providing assistance for the OER Recommendations:
Five areas of action:

Building capacity of stakeholders to create, access, use, adapt and redistribute OER

Developing supportive policy

Encouraging inclusive and equitable quality OER

Nurturing the creation of sustainability models for OER

Facilitating international cooperation

Monitoring and reporting:

Deploying appropriate research programmes, tools and indicators to measure effectiveness

Collecting, presenting, and disseminating progress, good practices innovations and research reports

Strategies for monitoring and evaluating the effectiveness and long-term financial efficiency of OER
We are excited to work together and with stakeholders around the world in building OER capacity and effectiveness. Together we can fulfill the aims and objectives of the UNESCO OER Recommendation and make significant progress in achieving access to quality education for all.
For more information contact:
Paul Stacey, Executive Director, Open Education Consortium paulstacey@oeconsortium.org
The coalition welcomes questions, requests, and suggestions using this form.