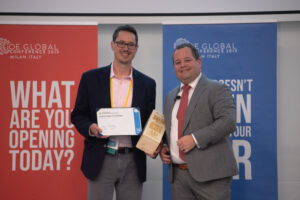 The Open Education Consortium (OEC) is pleased to announce the presentation of the Presidential Award to James Glapa-Grossklag, past president and treasurer of the OEC Board of Directors, at the 2019 Open Education Global Conference in Milan, Italy. 
The President's Award is given by the OE Consortium Board of Directors to an institution or an individual for exceptional contributions to the field of open education, serving as inspirational model of engagement and commitment.
OEC is honored to present this prestigious President's Award recognizing James for being instrumental in advancing open education around the world through his exceptional dedication, outstanding contribution, and exemplary service.  
James is Dean, Educational Technology, Learning Resources, and Distance Learning at College of the Canyons (California, USA). He supervises Online Learning, Libraries, and Tutoring. He directs the Distance Education Captioning and Transcription grant, supporting California Community Colleges in making distance learning accessible. He has coordinated technical assistance for the California Community College's Zero Textbook Cost Degree program. He was previously President of the Community College Consortium for OER (CCCOER) and President of the Directors of Educational Technology in California Higher Education (DETCHE), and is currently an OER Ambassador for the International Council of Distance and Open Education (ICDE).
On behalf of the OE Consortium Board of Trustees and the open movement as a whole, we give thanks and congratulations to James Glapa-Grossklag.  
Read full Press Release.