We are now
OE GLOBAL
.
You are viewing archived content. Please visit
oeglobal.org
for our new site.
Bir Tikendrajit University
Bir Tikendrajit Univesity (BTU) established by Govt. of Manipur State, India as Act no 9 of 2020 and BTU has been established as per UGC Act 1956 u/s 2 (F).

Bir Tikendrajit University is a new age university driving individual empowerment and social progress through blended learning. We believe in providing education that cultivates creative understanding, enables diverse, talented, hardworking graduates to pursue disruptive thinking leading to productivity, to enjoy the pleasures of lifelong learning, and to reap the satisfactions of aiding communities around us.

At BTU, we intend to attract & serve students from diverse social, economic and ethnic backgrounds and to be sensitive and responsive to those who have been underserved by higher education. The great philosopher Sri Vivekananda said that if students cannot reach the door of education, education will reach at the door of the students no matter where they live. In the long term, Bir Tikendrajit University aims at becoming a global institution through innovative programs linking humanities, arts, social sciences, pure sciences and health sciences, which will empower our students and faculty to collectively contribute to the world.

Shri Bir Tikendrajit was an illustrious king of Manipur and it is a befitting honour to him to establish this University in his name. The State of Manipur is a jewel in the North East of the Country with promising and vibrant young population. This University would open avenues for them in higher education and research in Science and Technology, Information Science, Health Science, Management, Liberal Ats and Humanities with a focus on local ethos for a wider integration with the world of knowledge as needed for the prosperity of the State.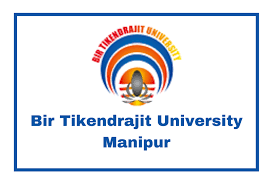 Institution Website: http://www.birtikendrajituniversity.ac.in