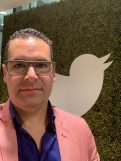 Jose is a trusted sports and education consultant with over 10 years of international experience and a track record of strong performance in cross-functional and multi-country project coordination.
He is currently Project Manager at Y Sport working with global brands, national and international governing bodies of sport.
He is also Teaching Assistant and Tutor of the 2019 'Sport and Diplomacy: More than a Game' postgraduate module at The Centre for International Studies and Diplomacy (CISD) at SOAS, University of London.