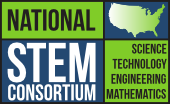 The National STEM Consortium, an alliance of 10 community colleges in 9 U.S. states, is developing an innovative portfolio of certificate programs to address regional workforce training needs for high-demand mid-skill jobs in the Science Technology Engineering and Mathematics (STEM) sectors.   Funded through the U.S. Department of Labor's TAACCCT grant program, curricula developed will be released under a Creative Commons Attribution license to enable sharing widely with other colleges who would like to implement similar career training programs.
Brian Bosworth, President, FutureWorks
Each of the five certificates comprises a 30-credit curriculum pathway designed to be completed in one-year of full-time study with an overarching "STEM Bridge" program with two tracks to help students master basic math, workplace communication, and professional skills.  The first track is a STEM Readiness course that is programmatically consistent across all fields and transferrable to other colleges.  The second and more intensive strategy for building critical workplace competencies is the FAST TRACK which will provide an accelerated pathway for students contextualized for the separate fields of study.
Composite technologies are rapidly evolving and many industry sectors have a growing need for knowledgeable composites technicians. There are opportunities for careers in aviation, marine, ground transportation, sporting equipment, construction, consumer goods and medical device industries.
American corporations lose up to $1 trillion per year in security breaches, according to The Economist magazine driving the need for trained workers in cyber technology. This program prepares learners for jobs in customer service and technical support, including information technology and network specialists with an option to earn industry standard certifications.
With over 2.6 million hybrid and electrical vehicles in the U.S. today, the need for specialized skills in electric vehicle development and repair is growing rapidly.  This program prepares students for product development and manufacturing positions in multiple industries including automotive, communications, solar, wind turbine, and smart grid sectors.
Environmental Technology
Careers focused on innovative technologies to monitor environmental issues, laboratory and field tests, and workplace safety are emerging. Students are prepared for career opportunities in HazMat, health and safety, and water quality with options to earn nationally recognized federal certificates from the Environmental Protection Agency (EPA) and the Occupational Safety and Health Administration (OSHA).
Today's manufacturing requiring technicians trained in "multi-craft" skills to work robotic and "intelligent" equipment ranging from ATM machines to multi-million dollar manufacturing cells. Combining electrical, mechanical, and computer students will be prepared to assist in the design, installation, and maintenance of mechatronic systems, equipment, and component parts.