Past President of the Board & TreasurerCollege of the Canyons
Location: United States
Term: 2017-2019
James is Dean, Educational Technology, Learning Resources, and Distance Learning at College of the Canyons (California, USA). He supervises Distance and Accelerated Learning, Libraries, and Tutoring.He directs the Distance Education Captioning and Transcription grant, supporting California Community Colleges in making distance learning accessible. He was previously President of the Community College Consortium for OER (CCCOER) and currently serves as President of the Directors of Educational Technology in California Higher Education. He has substantial experience in accreditation, with a particular focus on evidence collection and distance learning.
James was a tenured faculty member in history, and has taught online, hybrid, and face-to-face classes. Before coming to College of the Canyons, he taught at university in Poland and studied in Germany. He studied at Illinois Wesleyan University, University of Chicago, the University of Cologne (Germany) and Cornell University. His languages are English, German and Polish.
---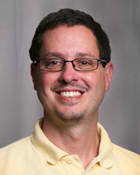 ---