Past President
University of California, Irvine
Location: United States
Term: 2012-2014
Larry Cooperman is the Associate Dean for Open Education at UC Irvine. He has served as an advocate for open education with government representatives in Colombia, with the university sector in Haiti and Brazil, and through his service on the board of the African Virtual University. He speaks at open and distance learning conferences internationally, from eLearning Africa to the conference of the Korea OpenCourseWare Foundation. From 1999-2001, Cooperman was Chair of UC Berkeley Extension's E-Commerce Program committee and served on the faculty of a Latin American business school for three years. Prior to joining the University of California, Cooperman was the Associate Vice President for Educational Technology at the California College of the Arts.
---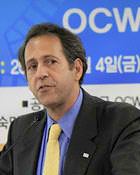 ---